Led by Steve Andrikut

North American Sales Director at 
Image Access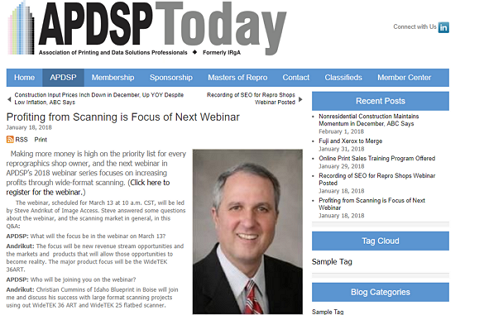 Join North American Sales Director Steve Andrikut and Christian Cummins of Idaho Blueprint for this webinar on March 13 at 10 a.m. CST as they discuss how businesses embrace the latest technologies to enable development of new revenue stream opportunities. If making money is a high priority, APDSP's next webinar is a must.
ADPSP, the Association of Printing and Data Solutions Professionals is a trade association that provides information and education to individuals and companies involved in the creation and reproduction of large format documents.
According to Steve Andrikut, the webinar will focus on "new revenue stream opportunities and the markets and  products that will allow those opportunities to become reality. The major product focus will be the WideTEK 36ART."
"There are many more opportunities for scanning as a service vs. the traditional print for pay work. The reprographics and reseller customers of Image Access are realizing there is money to be made beyond the traditional AEC market. New/newer markets to be tapped include bound document, art and artifact and flatbed scanning applications. These markets are literally right in your backyard and can be highly profitable." Andrikut said. 
Click here to register for the next webinar in APDSP's 2018 webinar series on increasing profits through wide format scanning