Art, culture and new contacts in several related venues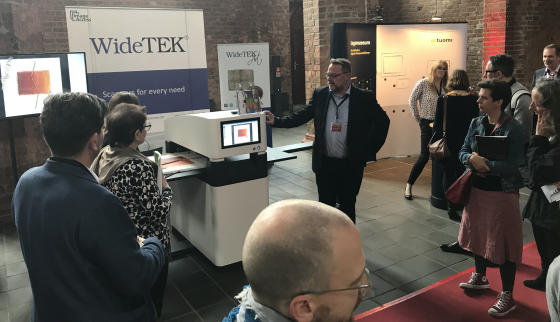 This spring, across North America and Europe, the WideTEK® 36ART has taken art and museum communities by storm.  Participation at several specialty exhibitions has proven that the WideTEK 36ART is the most favorably received new product in the market.
Image Access has already exhibited the WideTEK 36ART at museum shows in Europe in April and continued its worldwide tour with the American Alliance of Museums' Annual Meeting & Museum Expo in Phoenix, Arizona from May 7 to May 9, 2018, where more than 5000 museum professionals attended.
Following the AAM Museum Expo, the WideTEK 36ART fine art scanner made its way to the United Kingdom for the  Museums + Heritage Show, on 16 and 17 May 2018 at Olympia London, UK. The Museums and Heritage Show is the UK's largest sector exhibition, training and networking event for cultural professionals.
Image Access will continue to participate in trade shows and exhibitions around the world which place a focus on scanning fine art. If you or your organization would like to experience fine art scanning with the WideTEK 36ART live and in person, drop us an email and let us know where you are or which specialty show you will attend next. We will try to give you an hands-on demonstration of this unique fine art scanner.
Scan Right the First Time with the Best Pratices Guide 
Art and museum professionals who want to know how to scan their fine art optimally the first time should check out our new Best Practices Guide. Resulting from the overwhelming success of the WideTEK 36ART and customer experiences in the art and museum communities, Image Access has developed a comprehensive Best Practices Guide, which describes the scanner's functions, features such as its 3D scanning mode and provides many examples of how to get the best scan of a certain object using the scanner controls. With best practices outlined in the guide, the digital images have a particularly realistic, textured effect and can be used by artists and museums for digital presentation or reproduction for sale.