Still the world's only large format duplex scanner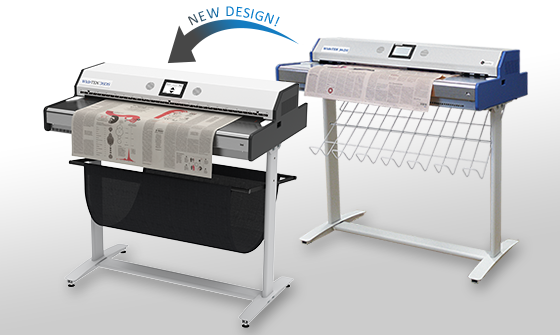 The WideTEK®  36DS is still the world's only large format duplex scanner with a maximum scan width of 36 inches (915 mm) but now, it is available with the latest Scan2Net® technology and in a new design. At a resolution of 300 dpi, the scanning time for the front and back of a newspaper sheet is only 2.5 seconds. Like all other scanners in the Image Access WideTEK® family, it also benefits from proven software technologies such as Scan2Net or ScanWizard.
At the end of last year, the WideTEK® 36DS was redesigned to include all of the technological features already in the other WideTEK scanners, while also updating to a more attractive physical design.
A modern color scheme and an ergonomically revised paper catch make the WideTEK® 36DS the perfect fit for modern office environments. The mechanical construction of the WideTEK® 36DS is also a highlight. The more extensive mechanics and additional camera and light units were integrated into the device without dramatically enlarging its dimensions. The duplex scanner is only 130 mm deeper than the compact WideTEK® 36. The complete camera optical system is integrated in two dust-free sealed housings. Once optimally adjusted, all components are protected against external influences and require no maintenance.
In addition to the design, the technology also received far-reaching improvements. The WideTEK® 36DS encompasses the proven technologies of the entire WideTEK® scanner family. The camera optics were completely redesigned, using the latest H4 camera. With this, the scanning speed at 600 dpi is almost twice as high as with the previous design. Image quality has also improved over the former design due to the 48 bit color depth. The interfaces have been extended by an HDMI connection, so that now the latest generation of high resolution monitors can be connected.
For further information about the WideTEK® 36DS or any other Image Access product, please contact your Image Access sales representative or mail us at info@imageaccess.de.