The following is an interview conducted between David Gerbholz, Image Access North American Sales Manager, and Kathy Amoroso, Manager of Information Technology at the Maine Historical Society.
David Gerbholz asked the Maine Historical Society's IT manager Kathy Amoroso for her feedback after a recent installation of the WideTEK® 44 wide format scanner onsite in Portland, Maine. Here are the questions and Ms. Amoroso's answers.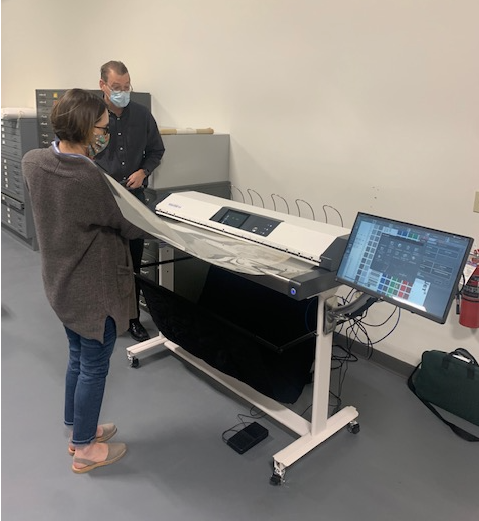 What were your specific digitization requirements or challenges you were facing to seek out a Wide Format scanner?
At Maine Historical Society we have thousands of oversized drawings, maps, plans, documents, etc. and we had no way, other than outsourcing, to digitize these. We wanted a wide format scanner so we could scan these in-house. We received two grants within the past couple of years that involve processing and digitizing architectural drawings, landscape drawings, and plans, another project that has many oversized maps and documents that need scanning so we can share them on our Maine Memory Network.
What was your research process and findings when you started this process? And, how did find Image Access?
In November 2019 I googled "Wide Format Scanners" and read various reviews. We had a $5000 budget. My search narrowed things down to WideTEK , Contex, and Colortrac. We found one online so I contacted the vendor. They recommended a local distributor, who coincidentally we had outsourced some oversized scanning to. I communicated with the sales rep there and we set up a demo. It seemed to take a while to coordinate the demo. Seemed like lots of disconnected people needed to be involved so I had to wait a while and then I remember some miscommunication with the date/time. Finally, The demo was okay but we were not very impressed with the presentation and it seemed like every question we had, they had to get back to us.
It was when they asked us to send them one of our valuable collections to scan, to test the thickness of the scanner path with a mylar sleeve, that we were turned off. No way. So I went back to the web and found another vendor, Scantastic. The rep, Monika, was very nice and informative yet she was far away (Georgia) and we were concerned about service and accessibility to repairs if there were a problem. We were also concerned with the training. She said she could train us remotely.
We were still looking within our $5000 budget. That would only get us a CIS scanner and the more research I did, the more I determined we needed a CCD scanner for full color depth and better quality. I finally contacted a well-respected Local map library that we worked with often (Osher Map Library at the University of Southern Maine). Without hesitation, the staff member there said they recently saw a demo of a scanner at Stanford, a WideTEK scanner, and if they were to get one, they would get that. I immediately stopped looking at the other brands and we determined that if we could raise the money for the better CCD WideTEK scanner, we would get that. I then googled WideTEK to talk directly to the manufacturer with all my questions. That led me to Image Access. Sales Manager David Gerbholz responded immediately and I grilled him with questions. He was super nice and answered all my questions with the thoroughness and knowledge that we needed. I was impressed and we were sold. We just needed to raise the money. David connected us with a reseller who gave us an estimate for a bundle. From there it was a matter of going to different funders to raise the money. Once we raised the money, we ordered the scanner and set up delivery and training.
How was your experience working with Image Access compared to other options you had?
The staff at Image Access was very responsive, honest, and relaxed. It made me comfortable. I was able to develop trust. They seemed willing to drop everything to respond to my questions. They also were not pushy in any way. I don't recall feeling pressured to buy the WideTEK scanner. There was a little miscommunication about the delivery but eventually that all worked out.
You and your staff attended a live virtual demo on the WideTEK 44. Can you speak to how that demo went, compared to any other demos you attended?
From what I remember, that demo was great. My colleague and I watched remotely using a video conferencing platform. The other demo we attended had severe technical issues. The video and audio lagged and we couldn't really see what they were doing. We were very turned off by that. If a vendor specializes in technology, we expect they can video conference successfully.
How was the Installation and Training process from Image Access?
The sales manager and VP of operations of Image Access actually trained us IN PERSON. We were amazed that they would do that. The only way we could afford that was to be a case study. We are very proud of our work and excited about these digitization projects, so we want to publicize them as much as we can. Being a case study is perfect. The scanner was delivered about two weeks before the training. When David and Jonathan met us at our facility for the training, they unpacked and assembled that scanner stand, and got the scanner all set up within an hour. From there we had a 2+ hour training session with 5 MHS staff members. It was very relaxed and informative, and each staff member that wanted to was able to try out scanning and adjusting the settings themselves. It was hands-on training, vs. just something you watch remotely.
Thank you SO MUCH for taking the time and effort to travel to us and get us set up. I think this is going to go a very long way in our projects and in other recommendations if we have colleagues that are looking for large scanners.