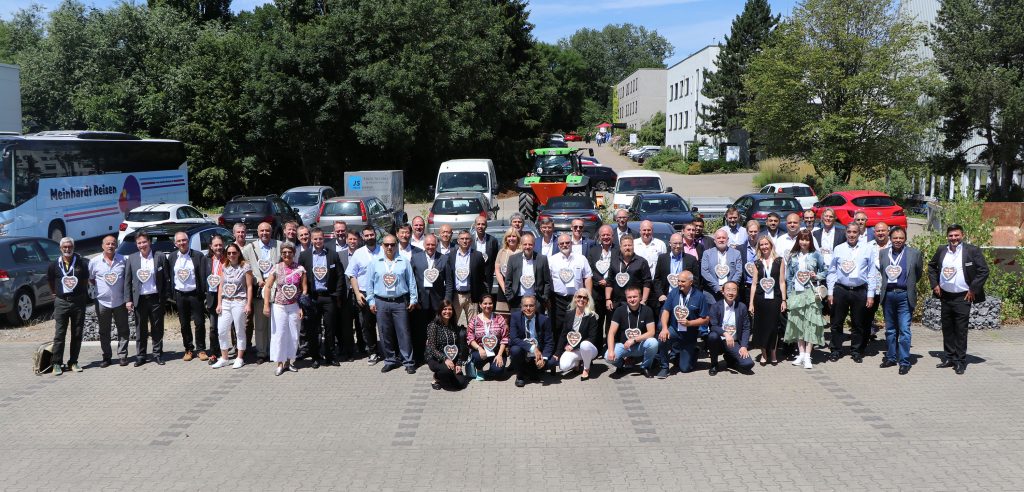 Vom 3. bis 5. Juli 2019 veranstaltete Image Access die fünfte Internationale Partner Conference in Wuppertal. Mit über 60 Vertriebspartnern aus aller Welt waren die drei Tage gut gefüllt: Diskussionen und Informationen über die Produktlinien WideTEK und Bookeye, Vorstellung der Strategien und Richtungen des Unternehmens und deren Scannerfamilien für die Zukunft sowie interessante und innovative Lösungen und Projekte unserer Partner in den unterschiedlichsten Märkten und Standorten.
Die Image Access Distributor Awards und die Special Awards sind ein äußerst wichtiger Teil der Internationalen Partner Conference. Mit diesen Auszeichnungen würdigt Image Access die Top Verkäufer sowie spezielle Projekte und Partner, oft aus kleineren Ländern, in denen Top-Umsatzstatistiken eine größere Herausforderung darstellen.
The awards were beautifully engraved by laser…

… and each winner also received a gold bar!
Die Award-Gewinner 2019 sind:
Distributor Awards 2019
Special Awards 2019
Top Seller – 1st Place
Beijing MIO Co., Ltd.
Special WideTEK Project
FlowTEC Co., Ltd.
Top Seller – 2nd Place
ELAR Corp.
Best New Partner
DIGIS spol. s.r.o
Top Seller – 3rd Place
IQTech
Ein besonderer Applaus an alle unsere Partner!

Top Seller #1 – Beijing MIO Co. Ltd

Top Seller #2 – ELAR Corp.

Top Seller #3 – IQTech

Special WideTEK Project – FlowTEC Co LTD

Best New Partner – DIGIS spol.s.r.o.

Thanks to all of our partners for another successful year!
Tag 1 – Willkommen im Golfhotel Vesper!
Diese Fotogalerien zeigen einen Ausschnitt unserer 3tägigen Konferenz. Wir bitten um Verständnis, dass wir nicht alle Teilnehmer in den Artikel aufnehmen konnten.
Tag 2 – Die Conference geht weiter…
Der zweite Tag stand ganz im Zeichen anwenderspezifischer Präsentationen unserer Partner sowie Wettbewerbsanalysen der Produktfamilien WideTEK und Bookeye. Anschließend erhielt jeder Partner ein Teilnahmezertifikat.
Tag 2 – Die Firmenführung samt Catering & Creme Eis
Im Rahmen einer Firmenführung lernten die Teilnehmer Image Access von "innen" kennen und konnten dabei einen exklusiven Blick auf unsere Produktionsstätte und Qualitätssicherungsmaßnahmen werfen, sowie erste Eindrücke von laufenden Produktentwicklungen gewinnen. Für das leibliche Wohl sorgte anschließend ein gemischtes Fingerfood Buffet sowie die Ape des Wuppertaler Unternehmens "Creme Eis". Bei warmen Temperaturen um 25 Grad ein erfrischendes Dessert-Highlight!
Auch Networking und der persönliche Austausch kamen nicht zu kurz. Bei einem gemütlichen Dinner am ersten Abend, dem Craft Beer Tasting samt BBQ am zweiten Abend sowie der abschließenden Bustour durch das Bergische Land am 3. Tag wurde viel und gut gegessen, gelacht und geschnackt.
Wir bedanken uns bei unseren Gästen für Ihre proaktive Teilnahme und die langen Wege, die sie teilweise auf sich genommen haben. Ebenfalls ein herzlicher Dank an alle Kolleginnen und Kollegen, die vor und während der Veranstaltung zum Gelingen beigetragen haben!