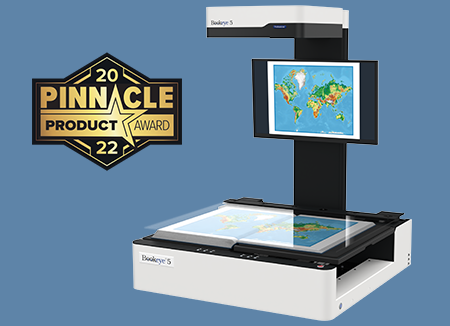 Join us at the 2022 Printing United Expo
Image Access was notified last week that the Bookeye® 5 V1A Professional has been awarded the 2022 Pinnacle Award for the Digital Capture System Product of the Year.
The PRINTING United Alliance annual Product of the Year competition showcases products that keep the printing industry moving forward. Winning companies achieve worldwide recognition and the ability to market their product as a winner in their category of this prestigious competition. This award was won by Image Access for their Bookeye 5 V1A. A panel of judges scored all entries and this product was given the highest score in this category.
Bookeye® 5 V1A is the wide format book scanner of choice for digitization projects which require formats more than DINA1+ up to 25×36 inches and is the only scanner with a motorized, height adjustable glass top which also can be opened to any user defined angle. The advantages of this unique design are obvious.
The Bookeye 5V1A book cradle is the most versatile in the industry supporting fully opened books at 180° with or without the glass plate as well as partially opened books via its V-shaped book cradle, all in one device. Every other vendor has to offer different models to cover all three scenarios.